We spent 15 days traveling around New Zealand and it is certainly not enough to cover all of the places that we wanted to go. We have to forgo some of our planning due to several factors such as time, distance, cost and weather.
Apart from the places that I went and listed in the itinerary, there are several places or activities that I really wanted to go.
HOBBITON MOVIE SET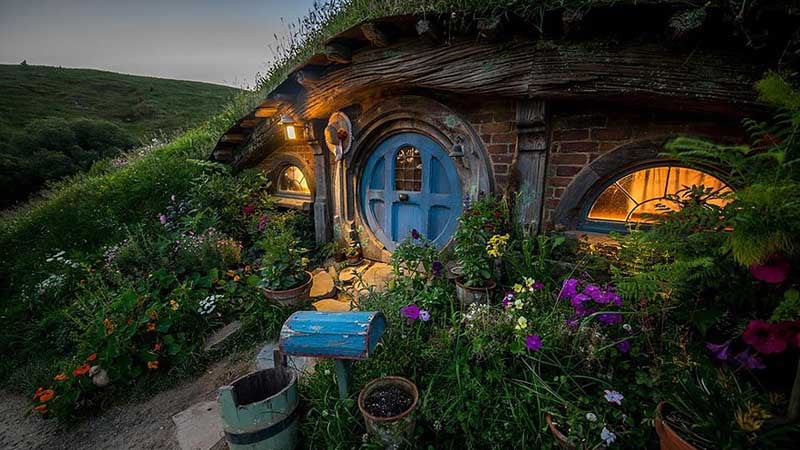 This is a must for hard die fan of The Lord of The Rings film trilogy and The Hobbits film series. It is located at a family-run farm at Matamata. They offer a guided tour to the set and you may experience the real locations of the film. The tour involved vast area which is 12 acres set and you may indulge the exciting journey to Middle-earth adventure.
LAKE TAUPO
Lake Taupo is a place for nature lover as it is complimented with beautiful lakes, stunning mountain and beautiful landscapes. It is a hotspot for skydiving at the North Island. Please make sure your phone and batteries of your camera are fully charged. Haha
HUKA FALLS
Huka Falls is located at New Zealand's longest river which is Waikato River. You can enjoy the spectacular turbulent flow of water due to the natural formation of the river. This is happened due to the change of width and elevation of Waikato river. The Waikato River which is normally 100m wide and at certain area is forced through a 20-metre-wide gorge and a sudden 20m drop.
It is about 220,000 liters per second of water gushes through the gorge and shoots out over 8 meters beyond to create a the magnificient foam pool which aptly named Huka in Maori's that has meaning of bubble. Another insta-worthy!
HOTSPOTS OF SKY DIVING
Sky diving is an activity for people who love adrenalin rush. The most popular sky diving at New Zealand is at Queenstown and Wanaka at South Island and Lake Taupo at North Island. At 12,000 feet in the air, you may enjoy the beautiful scenery of lakes, mountain ranges and sounds. It would be so exhilarating!
BUNGEE JUMPING SPOTS
You must conquer your fear by trying this if sky diving is too extreme. There are many places that offer this activity. The popular spot at North Island is Harbour Bridge and Sky Tower and Queenstown is very popular at the South Island.
SKIING AND SNOWBOARDING 
If you are keen with skiing, you should try. There are many places for ski and snowboard regardless at North and South Islands. The most famous is at Queenstown such as at Coronet Peak, Treble Cone, Cardrona and The Remarkables. Or you may try skiing down an active volcano at Whakapapa! Interesting much!
MOERAKI BOULDERS
As for its name, the boulders are located at Moeraki, which is one hour's drive from Dunedin. The spherical stones which full of mystery are scattered across a beach. Each boulder weighs several tonnes and the height is almost two metres. Some of the explanation is the boulders as calcite concretions formed about 65 million years ago. According to Maori legend, the boulders are gourds washed ashore from the great voyaging canoe Araiteuru when it was wrecked upon landfall in New Zealand hundreds of years ago. Your Insta posting would surely catch many likes.
SKY TOWER
Sky Tower is a 328-metre-high skyscraper with several fancy bars, restaurant, hotels and casino. You can view the surrounding area for as far as 80 km in every direction as you can spot the key landmarks and natural environment.
For adrenalin rush, you can try sky jump and sky walk as it will give a lifetime surreal experience.
TE PAPA TONGAREWA
Te Papa Tongarewa is the National Museum of New Zealand and located in Wellington. Te Papa Tongarewa meaning Container of Treasures. The five main collections areas are Arts, History, Taonga Māori, Pacific Cultures, and Natural History. You can easily spot the unique design of the building from far. Too bad we missed this!
MOUNT TARANAKI
Mount Taranaki is also known as Mount Egmont is one of the most symmetrical volcanic cone in the world with the height of
2518m. It is located at Egmont National Park. The peak was sighted by Captain James Cook in 1770 and was first climbed in 1839. Mount Taranaki has a resemblance with Mount Fuji of Japan and it has been featured in the blockbuster movie, The Last Samurai. If you want to take a beautiful photo of Mount Taranaki, you can go tracking to Pouakai Circuit. You will be amazed.
If you view Mount Taranaki from the map, you will see a large almost perfect circle of green area surrounding Mount Taranaki. It is the clear boundary of Egmont National Park which is 9.6km radius from summit of Mount Taranaki.
SCENIC TRAIN JOURNEY
I managed to get on Northern Explorer Train that travel from Auckland to Wellington and it was such an amazing journey. If I have more time, I want to take TranzAlpine Train that travel from Christchurch to Greymouth. I want to take photo at Moana and Lake Brunner.
Other than that, I want to take Coastal Pacific Train that travel from my favourite town, Picton to Christchurch. I want to enjoy the beautiful coastline of Kaikoura.
AUCKLAND
I didn't have much time to explore more on the attraction of Auckland. There are a lot of places that you may go and explore ranging of museums, beaches, islands, national parks, buildings, botanic parks and malls. I will surely spend more time in Auckland alone for next trip.
DUNEDIN
Dunedin is the principal city of Otago and the second largest city at South Island after Christchurch. It is well known for natural formation at Moeraki Beach which is Moeraki Boulders.
Apart from that, it is well known for the great architecture like Larnach Castle, one and only castle in New Zealand and Dunedin Railway Station. It is must for your insta-feed.
You also must head up to Signal Hill to enjoy the great panorama and Tunnel Beach also is a great option for great view.
Baldwin Street is the Steepest Street In The World and recognized by Guinness Book of World Record. It has gained the limelight due to its 1:2.86 gradient which is for a horizontal 2.86 m walk, the elevation changes by 1 m. Thank to the blunt city planning ! Every September thousands of people turn up to take part in the The Baldwin Street Gutbuster. Interesting !
WELLINGTON
Apart from Te Papa Tongarewa that I mentioned above, there are many other attractions of Wellington. If you are looking for beautiful scenery, Mount Victoria and Wellington Waterfront are a good choice. For the nature lover, you must go to Wellington Botanic Garden and Zealandia. And please don't forget to take Wellington Cable Car as it is a symbol of Wellington.
BAY PLENTY
One of the must-visit at Bay of Plenty is Te Puia that located at Roturoa. It is the home to the New Zealand Māori Arts and Crafts Insitute and the world famous Pohutu geyser.
WANAKA
One of the location you must go is Lake Wanaka. Lake Wanaka is the fourth largest lake in New Zealand. You can go for sailing and kayaking at this beautiful lake. This lake is heaven for the photography enthusiast. The well known willow tree that located in the lake is a must for the photograpgher.
The Roys Peak is another spot that you must go. It is the most-instagrammed hike in New Zealand. This quite a difficult hike that require 5-6 hours. Having mentioned that, the view at the peak is awesome.